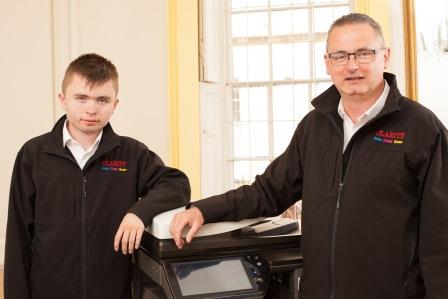 Printer and photocopier expert Lee Ambrose has marked two successful years running his own business by taking on his son as a trainee. Based in Orchard Street in Bristol city centre Lee set up Clarity Copiers (Bristol Central) in March 2014, following almost 30 years of experience in the industry.
Year two saw the previous year's turnover doubling and Clarity Copiers (Bristol Central) now has 139 customers, ranging from sole traders up to larger clients including the two Hilton hotels in Bristol and the Great Western Ambulance charity.
Only five of the printers and copiers Lee has sold to his customers are outside the BS postcode, making Clarity Copiers (Bristol Central) a truly city-based business.
Such has been the success of the franchise that he has now taken on his 18-year-old son Ryan as a trainee service engineer.
The second eldest of four boys, Ryan studied IT hardware at City of Bristol College and will be working with his father for an initial trial period of six months.
"We both need to see if he likes it," said Lee. "And I mean working with his dad, as well as if he enjoys the nature of the business!
"Clearly there are advantages to employing a family member, in that there are no recruitment costs and, because he currently lives at home with us, he won't be able to take any bogus sick days either.
"But Ryan's got a lot of relevant experience from his college studies – he knows about IT hardware, can install printers and scanners, and understands what an IP address is – and has a passion for technology, so he'll be a good addition to the business and I hope it's going to work out well."
Eventually Lee hopes that his other sons may look to join the business also, developing Clarity Copiers Bristol Central into a fully-fledged family firm.
The business is an accredited main dealer for Sharp Electronics. Ryan has enrolled in the Sharp Academy to help with his training and has just passed his first online exam as his learning continues.
Lee, who is 49 and lives with his family in Whitchurch, has worked in the printer and photocopier industry since 1987, starting off with Channel Copiers and later working for Victoria Office Equipment.
He said: "Anyone who has set up a business will know how tough it is from a standing start, with no customers, getting yourself out there and doing the networking and the leaflet drops.
"But I've had great support from Clarity Copiers Ltd and the ethics and fairness behind the business model have been a key ingredient in its success.
"My customers like the combination of quality and honesty, at decent prices and with the personal touch added in. We're entering an exciting time for small businesses, as customers recognise that we can do a better job than the larger companies and at competitive prices too.
"So the next few years look good. I'm excited to be working with at least one of my sons and am confident about seeing the business progress."